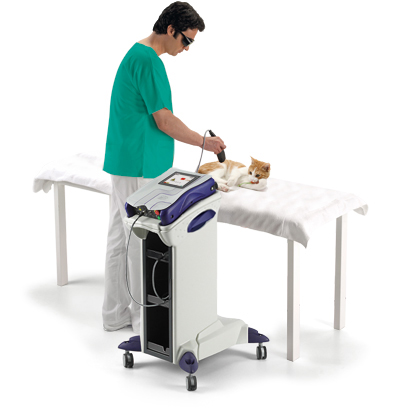 Designed to unite the effectiveness of MLS® Laser Therapy to the best user-friendliness, Mphi Trolley Vet is the most complete solution for daily in-surgery use. An ergonomic trolley provides easily movable convenient storage of the device and its accessories.
Working comfortably and in the best way possible has never been so easy.
An advanced user interface equipped with a graphical colour touch-screen and backlit display and software conceived to meet different needs offer the user complete operative modes and make managing each patient simple.
Technical features
Handpiece with optical group composed of 1 MLS® source - power up to 1.1 W - peak power 25 W
Target Area Ø 2 cm highlighted by high-efficiency red light LEDs
High resolution LCD colour touch screen user interface
Simultaneous management of two independent channels
18 pre-settled programmes for Dogs and Cats
21 pre-settled programmes for Equines
Possibility to customize every treatment parameter
Personal area to save custom protocols
MLS® modulation in CPW and FPW mode (Synchronized emission of Continuous Pulsed Waves and Frequenced Pulsed Waves)
Modulation frequency from 1 to 2000 Hz with 1 Hz steps
Power level 25%, 50%, 75% and 100%
Variable or fixed duty cycle
Treatment duration from 1" to 99'59" with 1" steps
Automatic calculation of the emitted energy according to the settled parameters
Alarms and safety features
Laser emission warning light
Interlock
Acoustic signal selectable by operator
Date and time
Password to operate the device
Language option
Ready to be connected to the remote Laser emission signalling device
Included accessories
Unit carrying trolley
N° 2 Laser Safety Goggles
Unit carrying case
Table handpiece holder
Shoulder strap for portable use
External power supply 18Vdc 50VA
Size and weight
Power supply
Lithium polymer battery
External power supply 18Vdc 50VA
Optional accessories
Multidiode applicator Charlie