Wednesday, October 18, 2023
Twenty veterinarians met at the ASA headquarters in the Vicenza area on 14th October to take part in the third in-depth day dedicated to "MLS® Laser Therapy in Veterinary Medicine", aimed at offering valuable suggestions and indications to optimise the use of the therapy in the daily practice of the sector professionals. Led by Silvia Meggiolaro, DMV, CCRP and ASAveterinary Specialist, after an initial theoretical part participants were involved in a lengthy practical part, useful for concretely verifying the application possibilities of the technology.
"The course proves to be a valid opportunity not only for interacting with our specialist, who is ready to provide answers to any doubts and questions, but also with colleagues to share their individual experiences. In addition, the possibility of viewing a series of cases that we present during the training represents a further plus to verify the real benefits of using MLS® for treating countless disorders", comments Alberto Zaghetto, ASAveterinary Area Manager.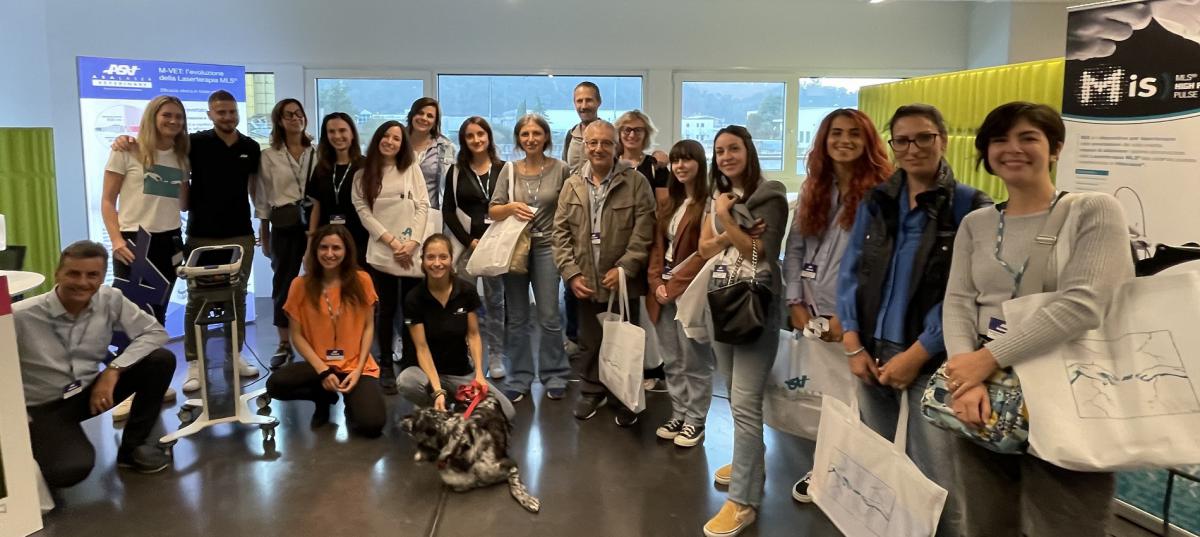 The feedback collected from the participants was significant:
"We decided to take part in this training day to broaden our knowledge regarding the use of MLS® Laser Therapy and, at the same time, to analyse in-depth its use in the treatment of dermatological diseases. What emerged during the meeting will certainly contribute to optimising its use, opening up new scenarios", comment Ilenia Bottino and Giuseppe Riello - Associated Veterinary Clinic of Sanremo - Mphi Vet users.
A similar assessment was also provided by Anna Cialdini, whose homonymous clinic in Nocera Superiore specialises in the care of felines:
"I recently purchased M-VET and I decided to attend this session to fully exploit its potential, using it in an even more effective and functional way. I already use it a lot and successfully to treat stomatitis and wounds, but the spectrum of applications is decidedly broader as I learned today. Above all, its support in dermatology is very interesting, an area of certain interest".
The speaker also underlines that training is central to allowing veterinarians to fully exploit all the potential of the MLS® devices:
 "I am very satisfied with the feedback collected at the end of the course, but above all with the questions asked which confirmed participants' real interest in acquiring not only knowledge, but also practical indications for a more conscious use of the therapy", concludes Meggiolaro.
See you on 2nd December (already sold out) for the last training session of the 2023 edition!