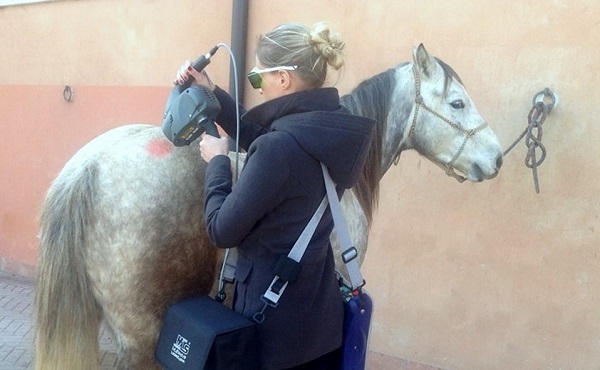 A specific device for treating the health problems of horses easily and effectively thanks to a series of therapeutic programmes designed to help the vet in choosing the most suitable. Among innovative veterinary equipment, Mphi Equine is a customized solution for facing conditions in horses and equine.
It reaches all parts of the body easily and accurately and transmits the high quality energy of the impulse onto a precise Target Area of 5 cm diameter, an optimal surface area for ensuring an excellent therapeutic result. In fact, the size of the illuminated area, makes it possible to activate ample volumes of tissue evenly, for example muscular fasciae or whole joints. This enables a rapid response in the structures involved and thanks to its bio-stimulating effects, therapy with the MLS® pulse only takes a few minutes.
An added benefit: the multidiodic applicator CHARLIE which offers the advantage of treating large areas of the body.
Technical features
Multidiodic applicator Charlie with optical group composed of 3 MLS® sources - power up to 3.3 W - Peak Power 3 x 25 W
Target Area Ø 5 cm highlighted by high-efficiency red light LEDs
Handpiece with optical group composed of 1 MLS® source - power up to 1.1 W - Peak Power 25 W
Target Area Ø 2 cm highlighted by high-efficiency red light LEDs
High resolution LCD colour touch screen user interface
Simultaneous management of two independent channels
18 pre-settled programmes for dog and cat
21 pre-settled programmes for horse
Possibility to customize every treatment parameter
Personal area to save custom protocols
MLS® modulation in CPW and FPW mode (Synchronized emission of Continuous Pulsed Waves and Frequenced Pulsed Waves)
Modulation frequency from 1 to 2000 Hz with 1 Hz steps
Power level 25%, 50%, 75% and 100%
Fixed duty cycle at 50% or variable
Treatment duration from 1" to 99'59" with 1" steps
Automatic calculation of the emitted energy according to the settled parameters
Alarms and safety features
Laser emission warning light
Interlock
Acoustic signal selectable by operator
Date and time
Password to operate the device
Language option
Ready to be connected to the remote Laser emission signalling device
Included Accessories
N° 2 Laser Safety Goggles
Unit carrying case
Table handpiece holder
Shoulder strap for portable use
Size and weight
Mphi Vet 36 x 28 x 10 cm; 3 kg
Charlie 11 x 16 x 25 cm; 1 kg
Power supply
Lithium polymer battery
External power supply 18Vdc 50VA